King 55 for men and Queen 55 for women exude a 'regal charm.'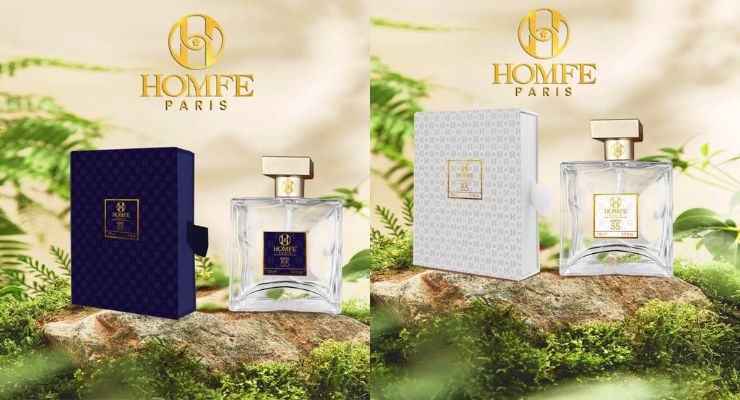 Luxury French perfume brand Homfe has launched two new fragrance lines: King 55 for men and Queen 55 for women.
Homfe chose a name that exudes regal charm for its latest releases. "The King 55 and Queen 55 lines are not just perfumes," the brand claims. "They are olfactory experiences that transport wearers to a world of opulence and refinement."
King 55
The King 55 line represents "the epitome of masculinity and strength," says Homfe. Crafted with care and precision, each fragrance in this collection is a testament to the artistry of Homfe's master perfumers.
Imperial Essence: The flagship fragrance of the King 55 collection, Imperial Essence, is a captivating blend of spices, woodsy notes, and rare oriental ingredients. It opens with the zest of bergamot and black pepper, transitioning to a heart of oud and patchouli, and finally settling into a rich, velvety base of sandalwood and leather.
Crowned Elegance: A more refined offering within the King 55 line, Crowned Elegance is an ode to sophistication and class. With a prominent note of lavender and hints of citrus and vetiver, this fragrance embodies understated luxury.
Noble Resonance: For those who seek a fragrance that lingers in memory, Noble Resonance marries the deep warmth of amber with the freshness of green apple and juniper berries.
Queen 55
The Queen 55 collection mirrors "the essence of femininity, grace, and timeless beauty," says Homfe. Homfe's master perfumers have curated each scent to capture the spirit of a queen.
Regal Blooms: The flagship fragrance of the Queen 55 collection, Regal Blooms, is a bouquet of exquisite floral notes. Rose, jasmine, and peony dance harmoniously with fruity top notes of pear and blackcurrant, all resting on a delicate bed of white musk.
Majestic Allure: Majestic Allure is a perfume designed for the confident and charismatic woman. It features a blend of spicy saffron, creamy vanilla, and sweet praline.
Royal Serenity: For those who appreciate a more understated elegance, Royal Serenity is a fragrance that combines the freshness of bergamot and mandarin with the timeless allure of iris and amber.
A Commitment to Quality
Homfe's King 55 and Queen 55 collections are a testament to the brand's commitment to quality and excellence. Each fragrance is housed in a meticulously designed bottle that reflects the regal nature of the collection. The intricate detailing and craftsmanship of these bottles are in harmony with the fragrances they contain.
Perfumes are having much more than a moment, and the Prestige Fragrance industry is delivering the goods—from small to large, and affordable to fantastical. Don't miss these 10 prestige fragrances with luxe packaging to match.